Wine Weekday Passport Program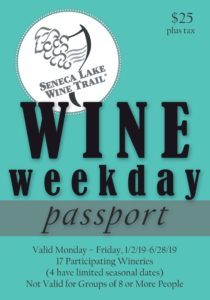 Valid Monday through Friday from January 2, 2019 – June 28, 2019

Visit the Trail during weekdays, Monday, Tuesday, Wednesday, Thursday and Friday, for a more intimate wine tasting experience with far fewer crowds. At $25 plus tax, this passport gives residents and visitors alike a convenient and affordable way to enjoy many of the wineries on the Seneca Lake Wine Trail.
This passport is not intended for large groups. If you are traveling in groups of 8 or more people, additional tasting fees will apply.
Here is how it works: Once you've purchased a passport, you can visit any of the participating wineries during their regular business hours, at your leisure. The winery will stamp or mark the appropriate space in your passport. They are good every week day (Monday, Tuesday, Wednesday, Thursday & Friday) through its duration; you may visit some wineries one day, come back at a later date and visit a few more!
Wine Weekday Passports on sale at the following wineries: The following shows the approximate number of passports each participating winery has for sale.  You should call ahead to confirm the winery has passports in stock. Wineries will oftentimes set passports aside for you, so you can be assured they'll be waiting for you upon your arrival.
Belhurst Estate Winery (315-781-0201 Ext.8) – 0
White Springs Farm Winery (315-781-9463) – 27
Seneca Shore Wine Cellars (315-536-0882) – 10
Torrey Ridge Winery (315-536-1210) – 7
Earle Estates Meadery (315-536-6755) – 13
Fruit Yard Winery (607-243-8866) – 0
Fulkerson Winery (607-243-7883) – 13
Lakewood Vineyards (607-535-9252) – 30
Castel Grisch Winery (607-535-9614) –  0
J.R. Dill Winery (607-546-5757) – 30
Atwater Estate Vineyards (607-546-8463)  0
Hazlitt 1852 Vineyards (607-546-9463) – 18
Three Brothers Wineries & Estates (315-585-4432) – 2
Zugibe Vineyards (315-585-6402) – 10
Ventosa Vineyards (315-719-0000) – 2
List updated – May 16, 2019
Purchase a passport online: