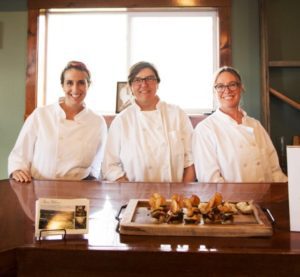 Chateau LaFayette Reneau has teamed up with the culinary trio of Samira, Jen, and Lindsay from Ryan William Vineyard for Flights and Bites.
Samira's culinary interests started early as she was inspired by her Middle Eastern grandmother's authentic cooking. Samira's love and respect for quality ingredients and passion for creating fine pastry and traditional food gained her a dedicated following which allowed her to found a catering group, restaurant and help her husband, Ryan, open and operate a full-service restaurant at Ryan William Vineyard.
Jen is a Finger Lakes native who brings 25 years of baking experience to Ryan William Vineyard. With a focus on seasonal and locally sourced ingredients, Jen creates both sweet and savory baked goods, including pies, cookies and artisan breads.
Lindsay was born in Cleveland, OH and moved to the region to attend Ithaca College. She began her career in restaurants 20 years ago as a bartender, and migrated to the kitchen over the next several years. Butchery, charcuterie, smoking and curing have become her favorite culinary projects.
Menu – Coming Soon!