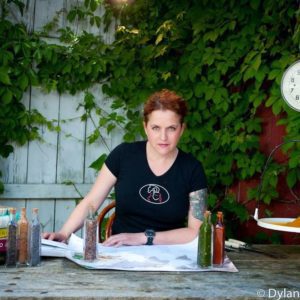 Chef Samantha Buyskes
Samantha Buyskes, originally from South Africa, has been cooking, teaching and catering in the Finger Lakes for over 20 years. Her first restaurant was Simply Red, which opened in Trumansburg in 2002. Simply Red was followed with an extension pop up in Sheldrake Vineyards until 2012. Most recently, Samantha is highly known for her cutting edge food at Kindred Fare and H.J Stead, in Geneva. She helped establish the epicurean roots for the locally and regionally sourced food movement.
An extensive traveler, her heart is true to the Finger Lakes, showcasing the best of the best within our region. Her restaurants feature blends of the region's seasonal bounty and exciting spice blends from around the globe. Chef Samantha has been extremely busy over the last years. She released her first cookbook, Mama Red's Comfort Kitchen in 2008. Many of her recipes and features have been showcased in local issues of Edible Finger Lakes, the Edible Communities Cookbook and Rochester Farmers Cookbook. In 2011, she had the adventure of competing on Food Network's Chopped, Season 6 premier episode. Her ingredients were goat's brains and fish heads. Everyday staples, right? This same year, she was listed in Rochester Magazine as one of the Top 20 women to know. Chef Samantha's passion for food and community keeps her involved with amazing organizations such as Share our Strength and Foodlink.
Menu
Dish #1: 2016 Sparkling Riesling (30th Anniversary commemoration)* paired with oyster potato nest with horseradish cream
Dish #2: 2018 Riesling Semi Dry paired with spring vegetable and fresh ricotta filled ravioli with browned butter and Parmesan herb crumble
Dish #3: 2018 Lemberger** paired with lamb slider on brioche with fresh feta tzatziki spread
*Small batch méthode classique sparkling Riesling to commemorate our 30th anniversary being released on May 2!
**Inaugural single varietal bottling of Lemberger, new release (likely coming out sometime in April)