Many wine lovers like to travel with their dogs, and we can't blame them a bit! So we thought we'd put together a list of dog friendly wineries on Seneca Lake to help you better plan your trip. We have a high concentration of wineries who welcome dogs, perhaps the most dog friendly vineyards in the Finger Lakes? Our wineries are just waiting to welcome you and your four-legged friend(s)!
A Dog Park at a Winery? Yup! We've got that!
Rolling out the red carpet for fido and friends
Boundary Breaks, on the east side of Seneca Lake, is the only Finger Lakes winery with a dedicated, fenced-in dog park, where dogs are welcome to run off-leash. How cool is that?!
Many of their employees have dogs and they encourage them to bring them to work – what a vibe, right?! They also have a large tent in the area for shade for both dogs and their owners. Plenty of space to enjoy a flight with some cheese and charcuterie. And those views of Seneca Lake – simply stunning.
Having a dog park really takes the idea of being dog friendly on Seneca Lake to the next level!
Wineries Give Back to Dog Shelters and Rescues
Some brands have spokespeople, Glenora has spokespups!
At Glenora Wine Cellars, about 15 minutes north of Watkins Glen on the east side of Seneca Lake, they love dogs. In fact, they have an entire series of wine dedicated to raising funds for local animal charities. Their SpokesPup series of wines was produced in hopes that all dogs and cats can have a happily ever after. If that doesn't tug on your heartstrings, we don't know what will!
Fox Run Loves Dogs!
At Fox Run Vineyards, just a short drive south of Geneva, they view dogs as part of the family! They offer Bo's Bones treats for sampling and purchase. Their wine garden is dog friendly and if the weather isn't cooperative, they welcome dogs in their historic barrel room. They also host an annual "Dogs and Dogs" event in June annually and they have Yates County Humane Society donation houses in their tasting room.
Lakewood Vineyards: Dogs, Dogs, and More Dogs!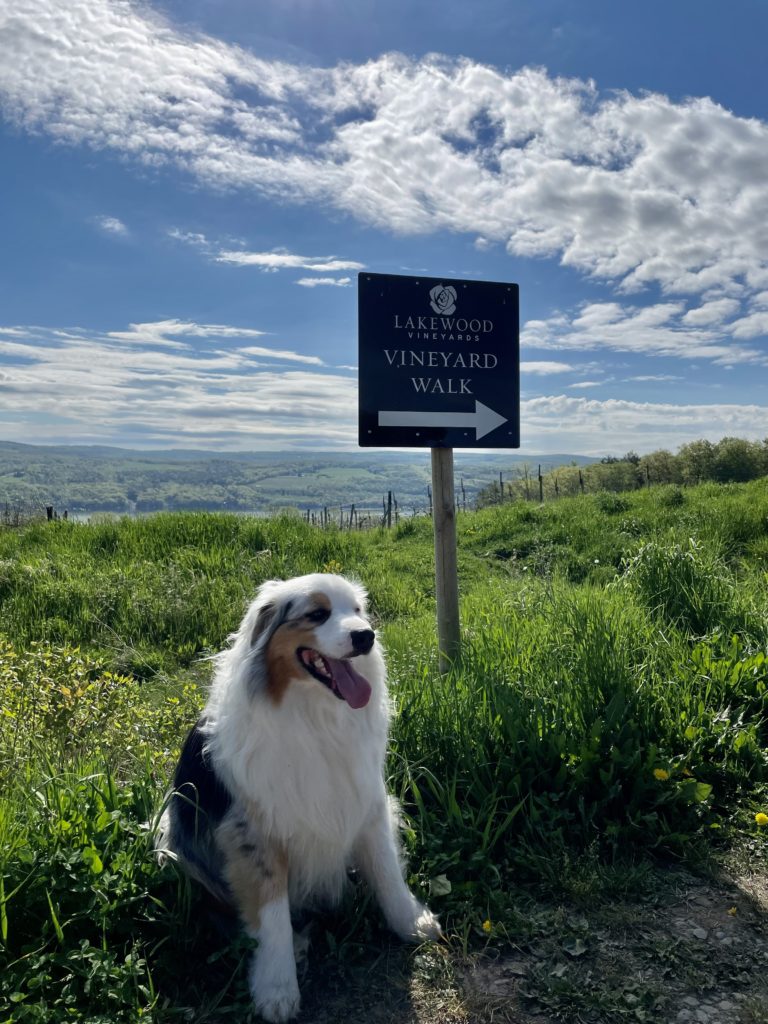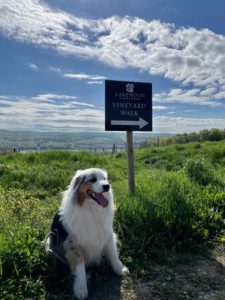 At Lakewood Vineyards, just a few minutes north of Watkins Glen on the west side of Seneca Lake it's not uncommon for guests to walk through the Lakewood Vineyards tasting room doors and say, "Where are the dogs?" The winery jokes that it has nine dogs on staff because many of the family and staff members bring their dogs to work every day. Dogs are welcome inside the tasting room as long as they are friendly–to both other pups and people. Lakewood also has an extensive vineyard lawn that is perfect for dogs to romp, and a self-guided vineyard walk for dogs and people alike. This year, Lakewood released a low-alcohol session spritz called Sidekick which features an Australian shepherd on the label and a portion of the proceeds goes to supporting the Schuyler County Humane Society.
Toast Winery: All Family Members Welcome!
At Toast Winery on the west side of Seneca Lake (and the newest Seneca Lake Wine Trail member), owners Mike and Jayne are dog friendly because they like to travel with their pups. They believe dogs are part of the family and want visitors to feel comfortable bringing their dogs along! They also have a donation box in the tasting room and they donate that moneyto a local animal shelter.
Bring Your Dogs to Laze While You Enjoy Wine
Leidenfrost Vineyards: Must Love Dogs!
At Leidenfrost Vineyards, about 15 minutes north of Watkins Glen on the east side of the lake, their laid-back tasting room is perfect for pups. They gladly welcome all well behaved canines with a bowl of fresh water and a biscuit! As team member Rowan adds, "We won't lie about the selfish pup-snugglin' reasons behind being animal friendly, we get a lot of joy out of meeting your fur-babies! It's important to us that our winery is a welcoming space and having a dog sprawled out on the floor brings a special coziness into the tasting room." They also have spacious grounds and outdoor seating, both perfect for relaxing with a glass of wine and soaking up the sunshine with your four-legged companions. 
Low Key and Welcoming!
Other wineries that welcome dogs include J.R. Dill Winery where they boast a large lawn and have a water bowl and treats at the ready; Fulkerson Winery where they give guests the freedom to tour around the farm at their leisure among 3 miles of trails, plus they have plenty of outdoor seating and water bowls to keep pups hydrated. Castel Grisch Winery also welcomes dogs with free dog treats and water bowls. At Wagner Vineyards, they welcome dogs outdoors on their expansive lawn. Learn more about their pup-friendly policies here.
Bagley's: A Love of Dogs That Dates Back to Their Founding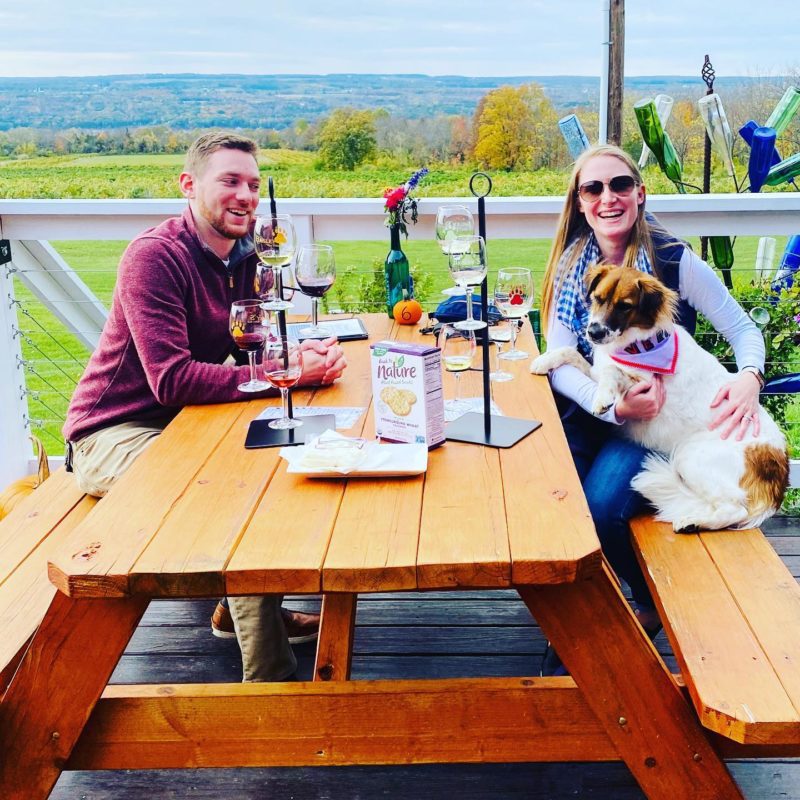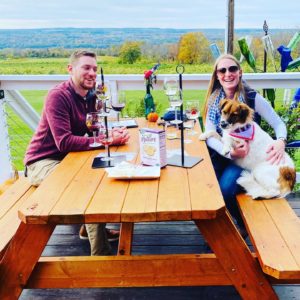 At Bagley's Poplar Ridge Vineyards being dog friendly goes back to their roots. Founder Dave Bagley had a love of chocolate Labradors and many of his customers still remember the dogs welcoming them upon arrival or just napping in the tasting room. Fast forward 10+ years, and the Crew at Bagley's is full of dog loving people who can't wait to welcome your pups (and you) to the tasting room. Their own winery dog, Willie Nelson, tends to shy away from people and spends most of his time in the back office or out in the vineyards. They, like many other wineries, also offer complimentary water and a dog biscuit for furry friends.
Dog-Friendly Wine Trail Event: Gone to the Dogs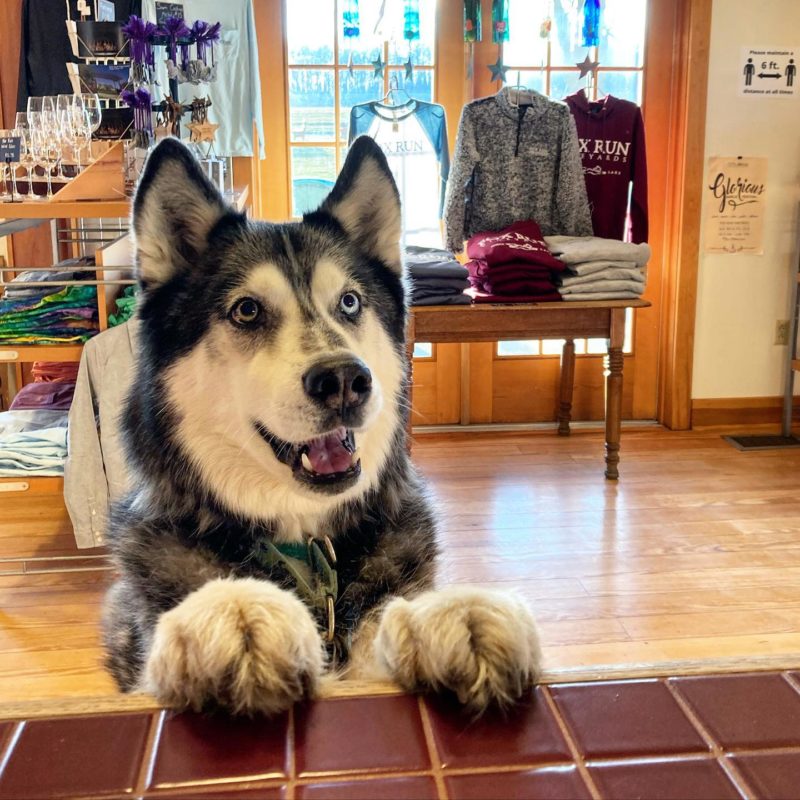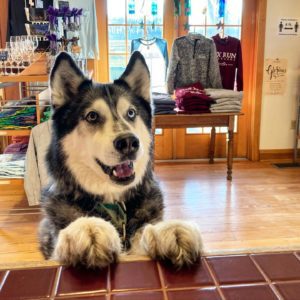 What a list of dog-loving, wine producing awesomeness to enjoy. But wait… there's more! We are dedicating 5 days to treating pups and their humans to the VIP treatment. Join us for the inaugural Gone to the Dogs event, August 22-26.
Ticketholders will enjoy visiting and sampling wines at 14 participating wineries on the Seneca Lake Wine Trail. Your ticket includes wine tasting, dog biscuits, and a special bandana for your dog!
You can spread your visits out over the entire event duration or simply come for a couple of days, whatever works for you. Tickets are on sale now and quantities are limited – get yours today.
Dog-Friendly Hotels and Vacation Rentals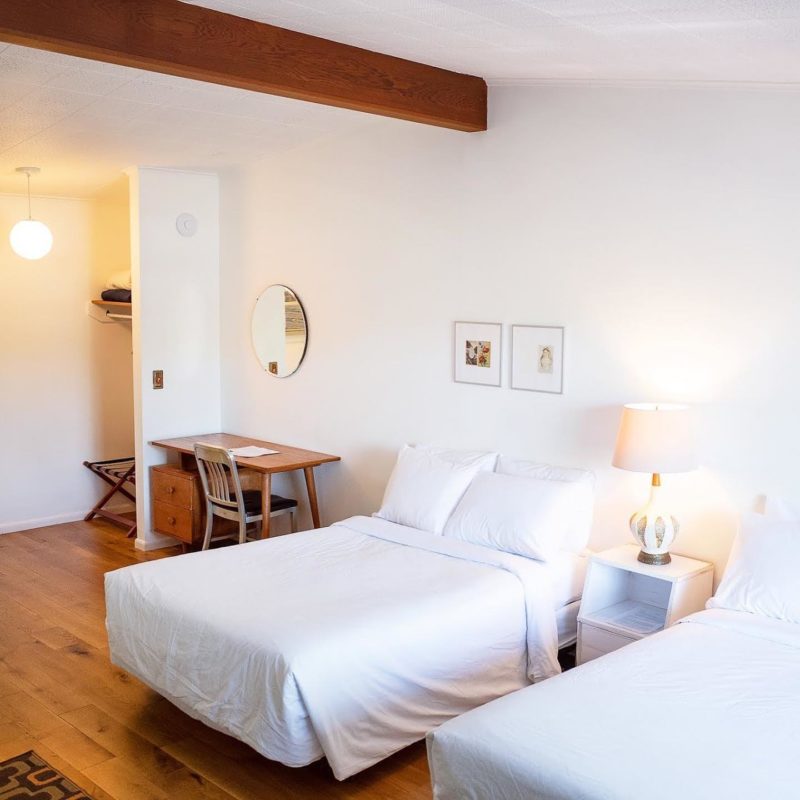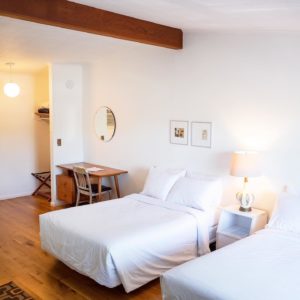 If you're curious about dog friendly hotels near Watkins Glen, Geneva, around Seneca Lake, and nearby, we're happy to help. It's a short drive to dog-friendly vineyards from these fabulous places you can call your home away from home:
Plan A visit to our dog friendly vineyards
Clearly, Finger Lakes wineries are dog friendly, especially those on Seneca Lake! Now that you have all of the inside knowledge on the many dog friendly wineries, dog friendly lodging, and the details of both, the only question left is: what are you waiting for? Plan your visit today!