Five Things with Gene Pierce, the owner of Glenora Wine Cellars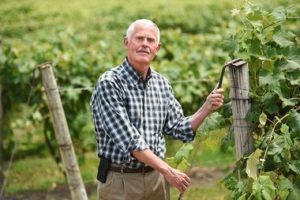 Why did you choose to open a winery on Seneca Lake?
GP: To a degree it was happenstance, but at the same time, it wasn't happenstance. When we first started Glenora, it was a partnership: me, Eastman Beers, Ed Dalrymple, and Howard Kimball. Three of the four of us had vineyards on Seneca Lake, so that's mostly how we ended up opening a winery on Seneca Lake. As far as the particular location. This property had easy access to and from the highway and a stunning view. We knew those two things would be a big part of what we hoped would be a successful business. At the heart of all of it though, we knew that Seneca Lake was a great area for growing fruit, as evidenced by Peach Orchard Point, cherries, apples, and other very successful fruit growth dating back to the time that Native Americans inhabited this land.
What makes Seneca Lake special to you?
GP: It's beautiful. It's absolutely gorgeous. The entire area is really unique when it comes to viticultural areas in the world. People might scoff a little bit when I compare the Finger Lakes with another wine region like Napa Valley. But I do it and I believe it. It's really much more beautiful here than in Napa. Much of the time there, it's very arid, you're looking at dry fields and not much green. Here in the Finger Lakes and on Seneca Lake, it's beautiful on a year-round basis and every day is different. Mornings are especially great. Seeing the fog coming off the lake and the chance to marvel at Mother Nature… it's just incredible.
What is your favorite thing about Seneca Lake?
GP: Generally speaking, most of us in the vineyard business are lucky enough to watch the sunrise. It's so quiet and peaceful. So I would have to say mornings.
If you had to recommend one thing for a visitor to do while visiting (other than drink wine, of course) – what would it be?
GP: Rather than telling you to go to a particular destination or visit a particular place, I would say, drive around and marvel at the beauty of the area. There are lots of places you can do that. Just explore!
Your passion for what you do is evident – what thought would you leave us with?
GP: Something many people don't realize is the incredible depth of Seneca Lake. Seneca is really unique in the fact that it's extremely deep. Here at Glenora, it's 650 feet deep. The bottom of the lake is 200 feet below sea level. That usually doesn't sink in for most people (no pun intended). 200 feet below sea level. Think about that for a minute. That's deep! Its depth plays a significant role in our growing conditions. It's a heat sink for us in the winter (protecting the fragile vines planted around its edges) and a moderating factor (in that it prevents the big temperature swings that you see "off" the lake – that is, further away from the lake) in the summer.
Everyone hears us talk about Riesling. So, using this iconic grape as an example, I would say, these Rieslings (wines/grapes) are truly unique in that there is no place else in the world where  grapes are grown along the shores of glacier-carved lakes, which provide a unique terroir and a growing environment – and it is our/their backyard!
Seneca is special and it's beyond marketing – it's science.