Five Things with Scott Osborn, the owner of Fox Run Vineyards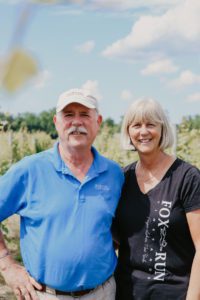 Why did you choose to open a winery on Seneca Lake?
SO: I felt the Finger Lakes was the best cool climate region in the U.S. It also was relative unknown as a wine region except within the winemaking community. In 1985 when I returned from working in wineries in California there were only about 20 wineries in the area, but the wines from some of them were outstanding. My most memorable one was the 1982 Wagner Barrel Fermented Chardonnay it was also the wine that confirmed to me that I should move back here.
I began searching for a location somewhere in the Finger Lakes. I researched the information from Cornell on temperatures, on ripeness, and general weather patterns. I also spoke with some of the prominent winery owners and growers like John and Ann Martini, Hermann Weimer, Bill Wagner, Doug Knapp, Gene Pierce, and Willie Frank and realized that Seneca Lake and for me the northwest side was the best place to locate a vineyard.
What makes Seneca Lake special to you?
SO: It is the perfect climate for growing grapes. It is also a great place to raise a family. For those reasons alone it needs to be protected. After purchasing Fox Run, I felt I could make a difference not only from a wine making side but also from an environmental side. Around here, one of the best ways to care for the environment is to care for Seneca Lake.
I slowly began to implement a sustainability plan that would help mitigate the impact of our grape growing and our winemaking on the environment. In 1996 we worked with Yates County Soil and Water Conservation District to become designated as a Lake Friendly Farmer, meaning that our viticulture practices do not have a negative impact on the water quality of Seneca Lake. For example, this means that most of our vineyard rows are parallel to the lake, preventing erosion. When we do treat the vines, we use compounds that are easily broken down or are absorbed by the plant so they do not run off into Seneca Lake or impact it in any way.  We do not use nitrogen as a foliar spray or nitrates on the soil. Additionally, we are reducing our carbon footprint by operation on self-generated solar energy. It may seem like small steps but in this way, we can make a big impact.
What is your favorite thing about Seneca Lake?
SO: Living here for 26 plus years I never get tired of watching the sunrises over Seneca Lake, the snow geese flocks in the winter floating on the lake, and when it gets real cold watching the steam come off the lake and form clouds. I am blessed every day I am here.
If you had to recommend one thing for a visitor to do while visiting (other than drink wine, of course) – what would it be?
SO: Aside from eating at some really fantastic restaurants surrounding the lake I would take a walk on the Gorge Trail at Watkins Glen State Park.
Anything else we should know?
SO: The weather! We really have such a perfect climate not only for growing grapes but for living here. The summers never really get hot and the fall is absolutely amazing with the fall foliage. The winters are really pretty pleasant and we really don't get that much snow. There have been years when I have green grass showing most of the winter.
Learn more about Fox Run Vineyards here.