Stories of Seneca – CK Cellars
Torrey Ridge Winery / Earle Estates Meadery / WortHog Cidery
Answered by Paul Curcillo & Stephanie King, Principals
Seneca Lake – Where hobbies, passions, commitments & dreams become Reality …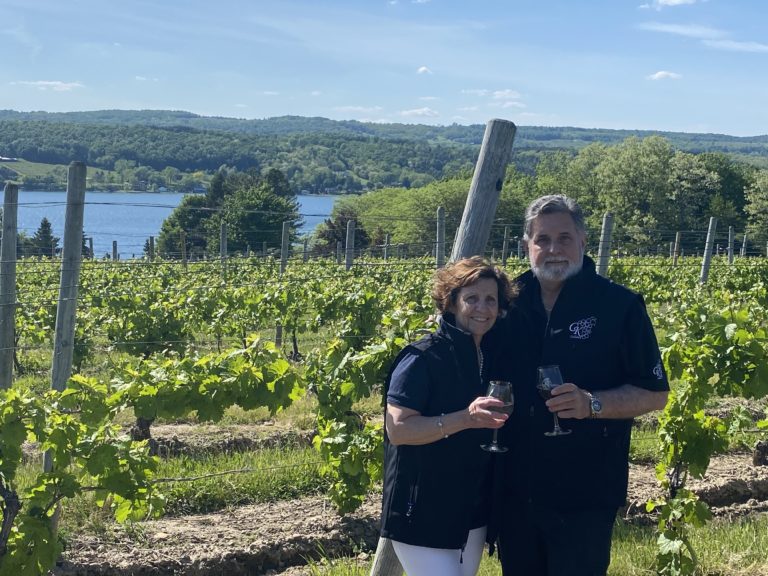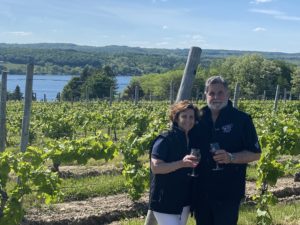 "In 2000, Stephanie and I began making wine with "Pops" Curcillo (our father) and our family.  As Italian Americans, it was almost a given that we would one day find ourselves celebrating the transformation of Grapes into Wine with three generations of family.  Crafting homemade wine was a wonderful hobby.  We found ourselves making more wine every year.  As we grew, our hobby ripened into a passion and we found ourselves making different wines every year. The passion grew to a commitment to make better wines each year and soon veraisoned into a dream.
This dream took us East to West, local and distant. Then, at the insistence of Stephanie, on a snowy day in the Finger Lakes in 2014, we found ourselves on Seneca Lake.  Our dream was about to become a reality.
The beautiful landscapes were only out done by the hospitality the people of Seneca offered.  Everyone we met was warm and welcoming.  They were proud of their community, and we found ourselves comfortable and welcome.  Even the drive up and back was a chance to enjoy some of the best landscapes of the East Coast. Our first thoughts on departing the Finger lakes were "when are we coming back?".  Seneca lake was about to become a new home …"
What makes Seneca Lake special to you?
"Quite simply, Seneca Lake is a wonderful place to be.  The hospitality and warmth are inviting.  The landscapes are calming, and, of course, the wines are delightful.  Just as the variety of wines is unsurpassed anywhere, the variety of things to do up here are endless.  We went up for the wine, we stayed for the "lakes".  No matter from where you travel, visiting Seneca Lake is as comfortable as being at home."
What is your favorite thing about Seneca Lake?
"The "Lake Effect".  Most often used to explain why the climate of this area is ideal for growing grapes and making wonderful wines, it actually is much more.  After all, what else could explain the calm relaxation that sets in upon arrival? Suddenly, all is well.  Arrive in the late afternoon and prepare for some of the most serene sunsets looking west over the lakes.  Arise early in the morning and the warm sunrise sets the tone for a wonderful day ahead.  The "lake effect" is a way of "being"; it is the inner warmth that makes you think about coming back the minute you begin to leave."
If you had to recommend one thing for a visitor to do while visiting (other than drink wine, of course) – what would it be?
"Come for the wine, explore for the beauty.  But most important, don't cut your stay short.  Plan to spend some extra time here – relax, enjoy and feel the calm.   Meet the people of our community.  Engage yourself in the landscape and wander.  Every day, every turn you will find something new!"
Anything else we should know?
"Take a deep breath, open your mind and be prepared to explore the variety offered here. Take some time to try new things.  Hiking, biking, boating, snowmobiling or, of course, finding new wines, meads, ciders, beers or spirits.  Spend a day chasing waterfalls, exploring museums unique to our history.  Coming up here makes it so easy to leave all else behind for a short time. The Finger Lakes offers so many choices you can't help but find that special something just for you."