Riesling has brought fame to the Finger Lakes and Seneca Lake. This incredibly versatile grape grows exceptionally well in our well-drained soils. It is made in styles that vary as widely as the wineries where it is produced: from bone dry all the way to sweet dessert wines.
So what is it about Riesling that makes it so versatile? The secret lies in its acidity. Riesling is notoriously high in mouth-watering acid, which gives this grape and its resulting wine the ability to be styled in so many different finishes. When dry it is refreshing and bright, when semi-dry it develops a full flavor without feeling sweet, when sweet it is luscious but not cloying – the best way to truly understand its versatility is to taste it.
That acidity is also what makes the wine so food friendly, arguably one of the most food friendly white wines out there. Acidity gives the wine back bone, an ability to stand up to food.
We've asked a few of our wineries to share their favorite wine and food pairings and the corresponding recipes, to help showcase this beautiful wine.
First up, Wagner Vineyards with their dry Riesling and halibut.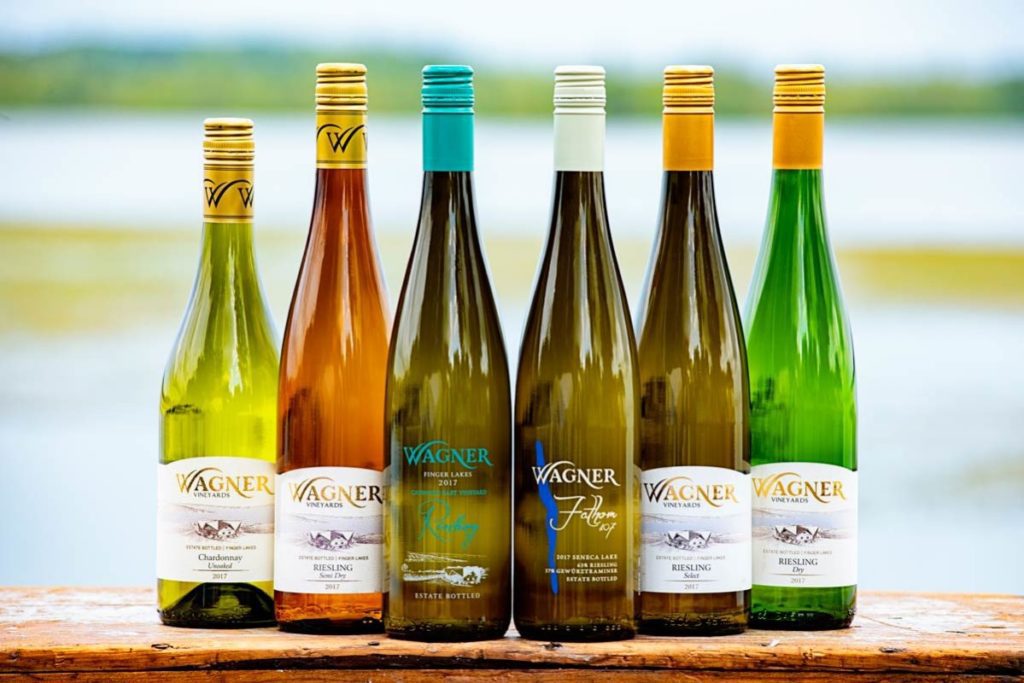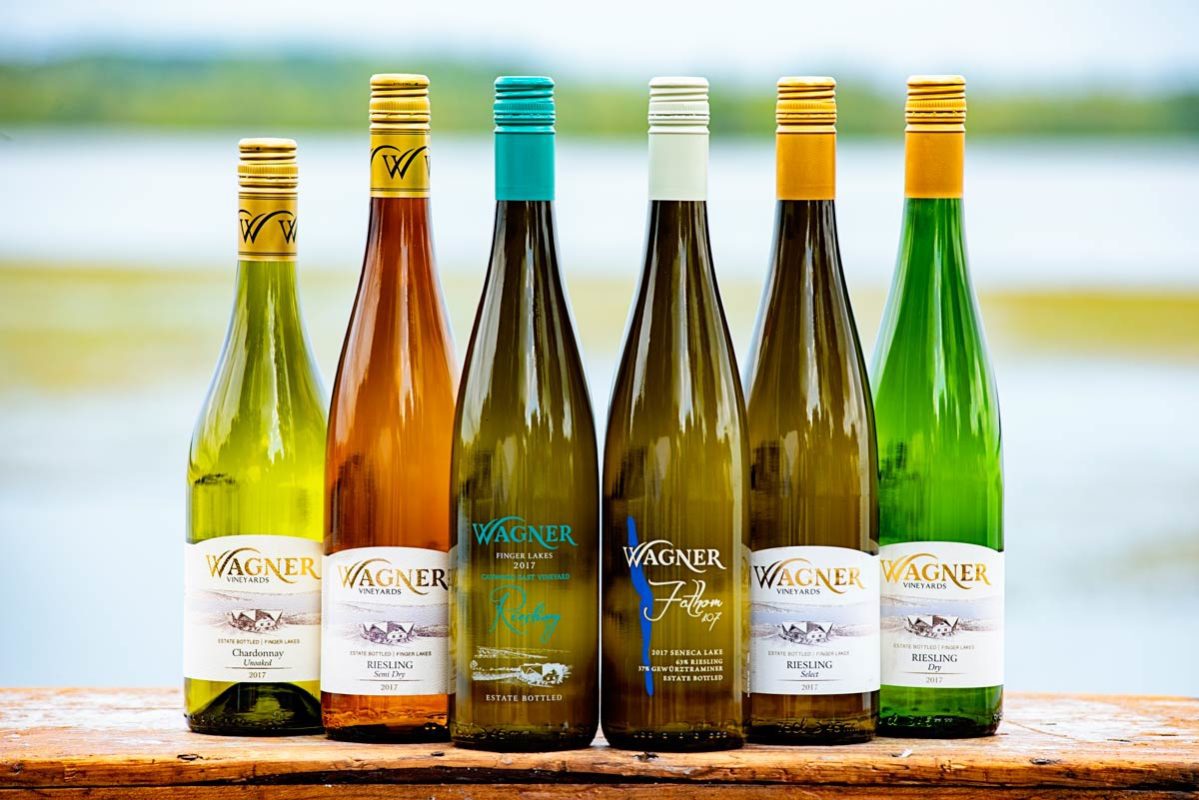 Alex Janowski from Wagner Vineyards shares, "The Wagner Vineyards Riesling Dry embodies so much of what we love about Finger Lakes Riesling. Its medium body, lively acidity, and fruit-forward flavors make it the perfect complement to a dish; instead of overpowering it.
While this Riesling is versatile enough to shine in multiple settings, one area we keep coming back to is alongside meatier fish (think salmon, halibut, swordfish). The wine has the depth to hold its own, while the lemon-lime and other citrus notes can inspire you for the right sauces or glazes to dress the fish with."
It's a point well taken and in fact, the Wagner website features a halibut entrée that doesn't just pair well with this Riesling; it uses the wine in the sauce! Check it out here.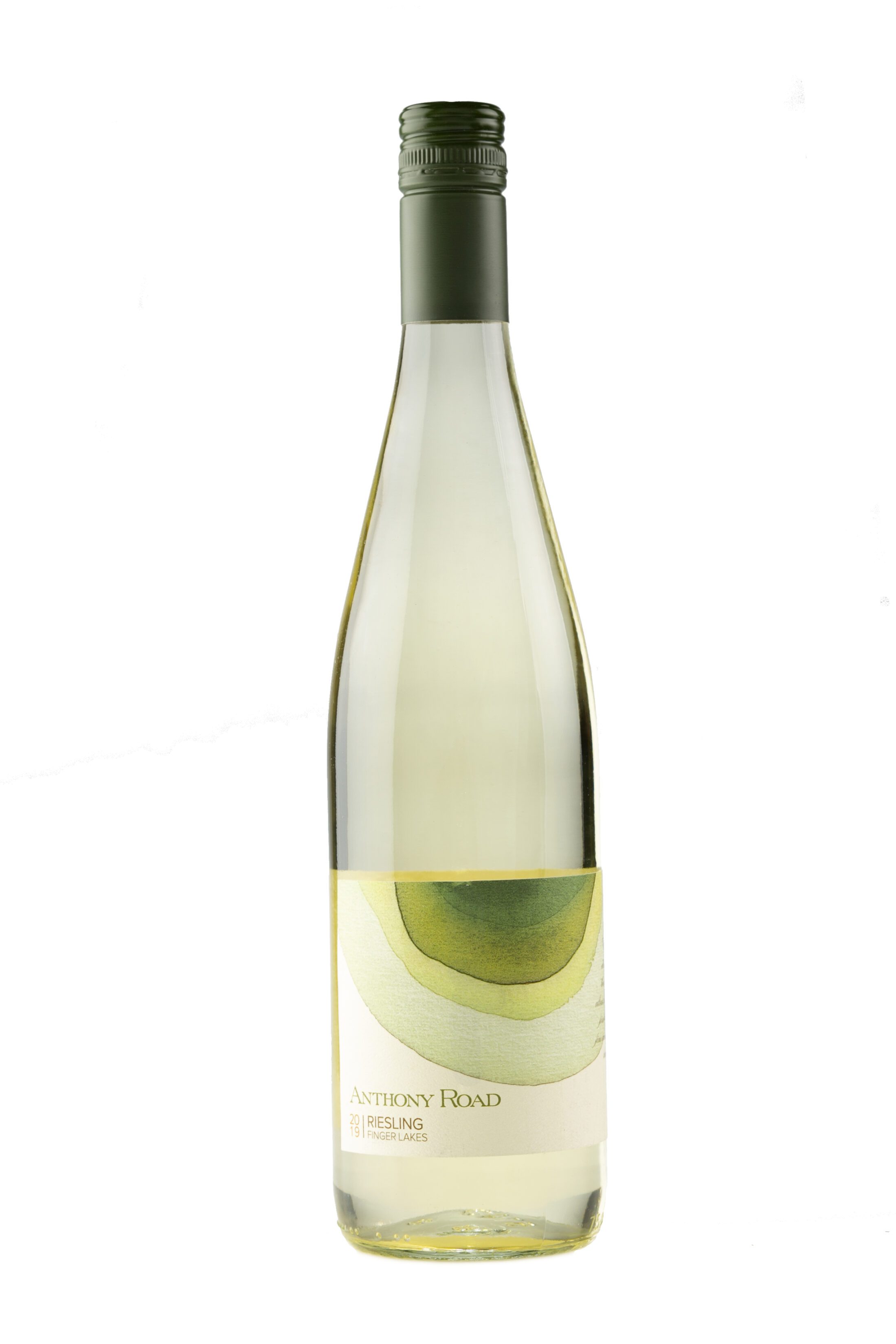 Maeve Feola from Anthony Road Wine Company likes that you can surprise yourself with wine and food pairing. "The main objective in wine pairing with food is to enhance the dining experience. A side-effect can be that you enjoy something you wouldn't usually gravitate towards.
Back in March 2021, I was able to experience all of this first hand. Chef Sam Buyskes with Simply Red Catering prepared one of the Sunday Suppers at our winery, Anthony Road. The complex spices in the Shrimp, Chicken and Andouille Jambalaya that Sam served paired perfectly with our 2019 Riesling. The residual sugar in the 2019 Riesling categorized it as a semi sweet in the dryness scale and it successfully balanced the spice and heat of the jambalaya.
I am not one to generally reach for a sweeter, fruitier wine but I was pleasantly surprised with this combination. I would recommend a sweeter Riesling with a spicy dish to folks, and still remember to this day that perfect pairing."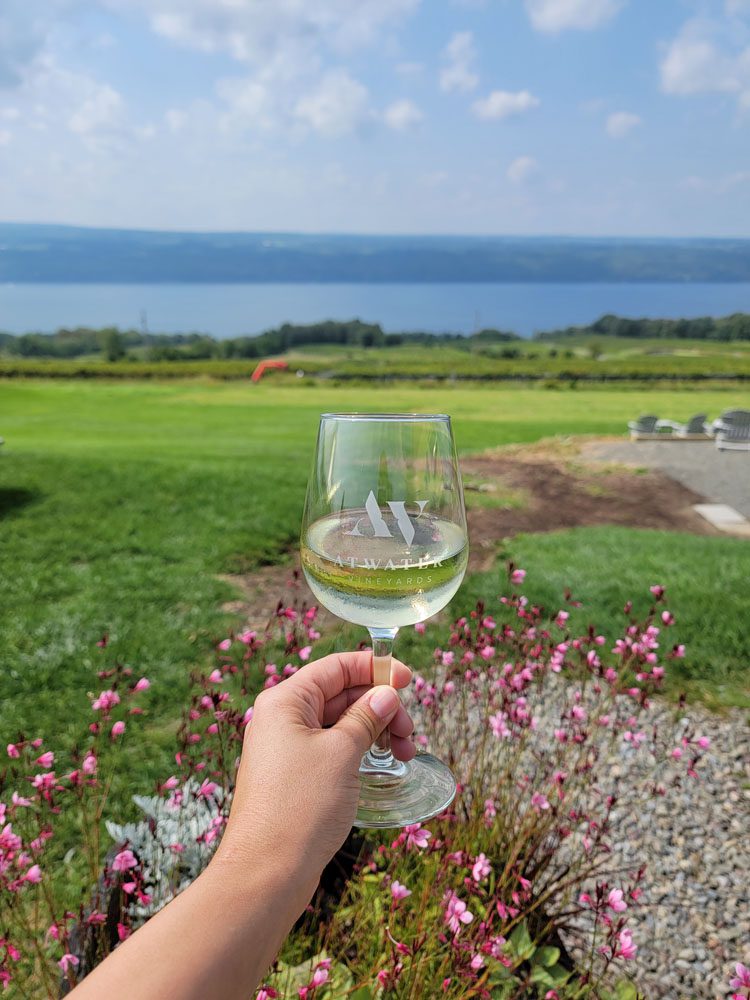 Another great example of the spicy-sweet combo comes from Aimee Ellis at Atwater. She recommends their 2021 Riesling with zippy samosas. Amy adds, "The Atwater Vineyards Riesling 2021 opens with aromas of white peach and brine. It has a lively and energetic palate, beginning with a burst of ripe peach. With 2.43% residual sugar, this semi-sweet Riesling pairs well with your favorite take-out Indian food whether you are a carnivore, vegetarian, or vegan. The wine's slight sweetness provides balance for the spicy flavor and heat. Intrepid chefs may want to try making samosas at home with this recipe from BBC Good Food."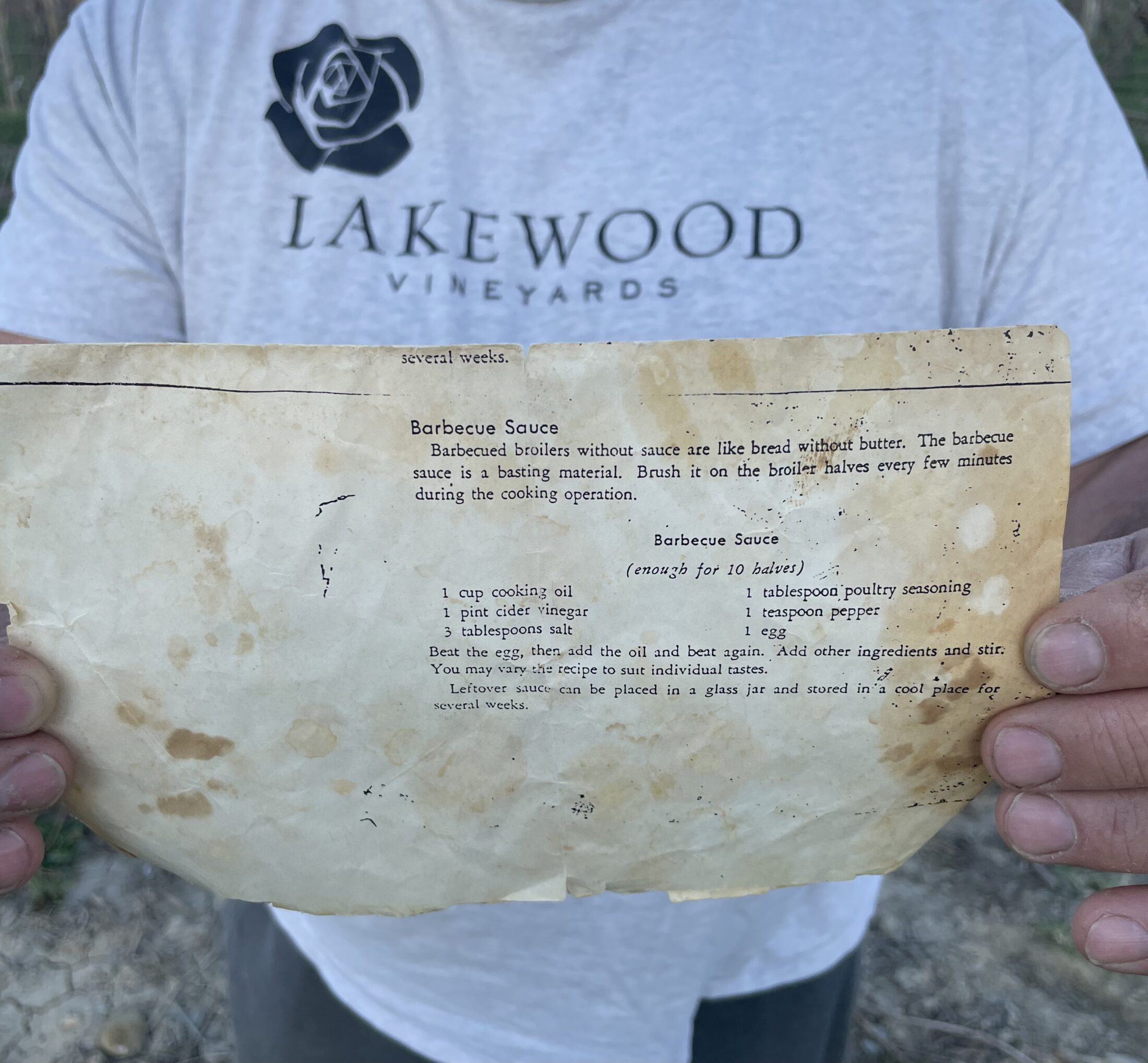 The Stamp family that owns and operates Lakewood Vineyards has a go-to dish for warmer weather: Cornell BBQ Chicken.
Vineyard manager Dave Stamp recalls, "Being raised on the grape farm, we worked six days a week but Sunday was a family day. I remember splashing around the pool while my Dad grilled barbeque chicken using this recipe. The taste reminds me of those summer Sundays growing up."
To recreate a truly Finger Lakes experience at home, try pairing Lakewood's Riesling with Cornell BBQ Chicken. Dr. Baker of Cornell University created this recipe in the 1950s and it has earned its place as a classic. Lakewood's Erin McMurrough adds, "It's salty, savory, crispy, juicy and flavorful all at once. Round out your meal with buttered salt potatoes and grilled sweet corn."
Cornell Barbeque Sauce (enough for 2 or 3 chickens, cut in half – a true party)
1 cup cooking oil
1 pint cider vinegar
3 tablespoons salt
1 tablespoon poultry seasoning
1 teaspoon pepper
1 egg
Recipe Instructions:
Combine the basting sauce ingredients in a blender and mix until emulsified.
Place the chicken halves in a large zip-top plastic bag and pour in 1/2 cup of the sauce. Seal the bag and shake gently to coat the chicken evenly.
Refrigerate for 2 hours.
Remove the chicken from the marinade and wipe off excess sauce from the surface. Discard the marinade.
Grill over charcoal, turning often and liberally basting with the remaining sauce every 10 minutes, for about 1 hour, or until cooked through.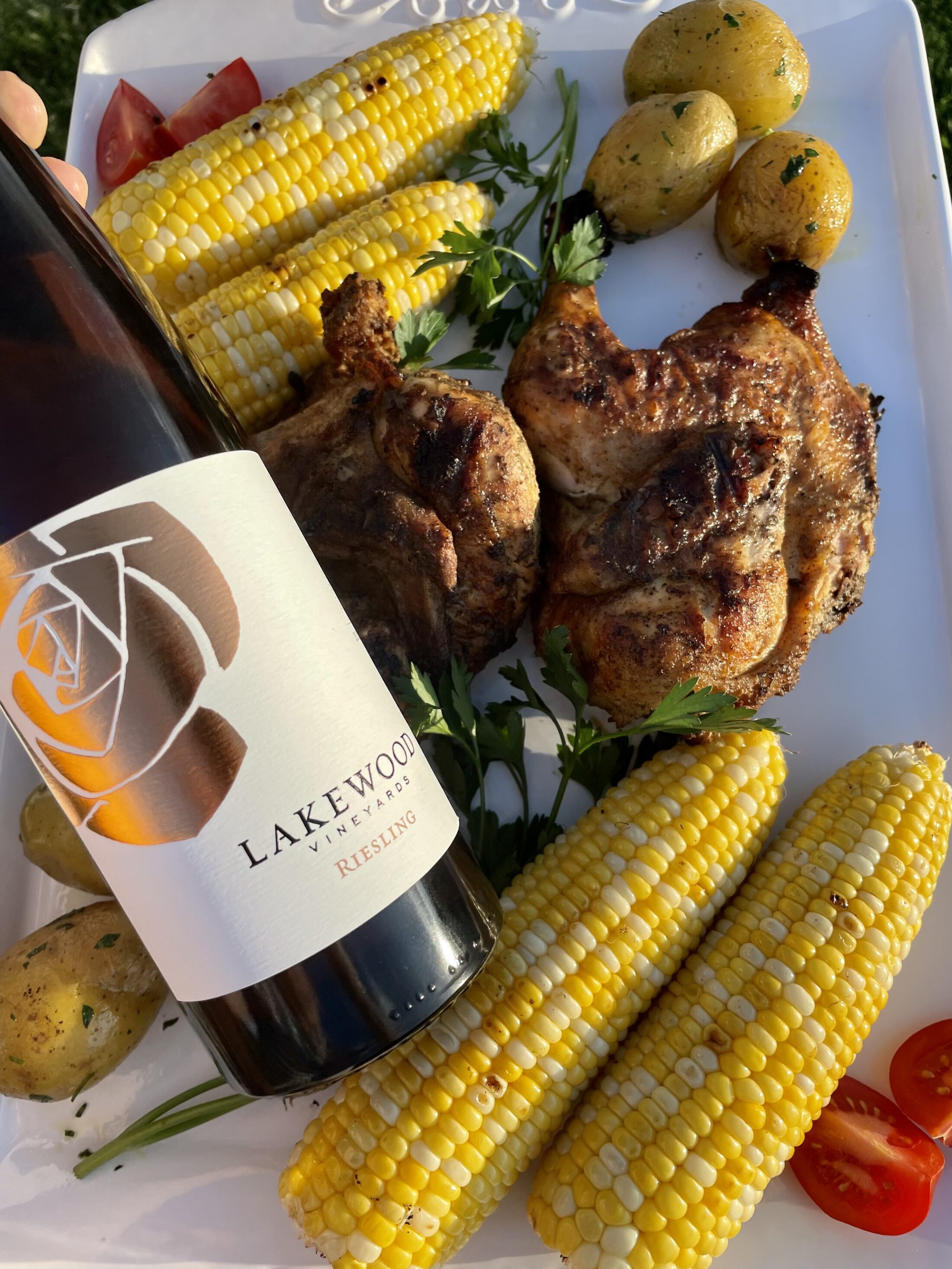 Erin goes on to say, "Lakewood Vineyards produces four different styles of Riesling, from bone dry with its 3Generations Riesling to sweet with Full Monty Riesling. But one shines without any additional classification–Lakewood labels its classic, off-dry Riesling simply as Riesling because it is the style that caught the wine world's attention, giving the Finger Lakes a well-deserved seat at the table.
Highly aromatic with notes of apricots and peaches, the wine has a touch of sweetness on the palate that is well balanced with mouth-watering acidity. This Riesling is a popular go-to wine because it is consistently delicious and pairs with a variety of foods."
If this isn't enough to get your creative wine and food pairing juices flowing, we don't know what is! What are your favorite food pairings with Seneca Lake Riesling?