Sponsored by Cabot Creamery Cooperative
During Spring Wine & Cheese Weekend, enjoy a self-guided tour around the beautiful Seneca Lake Wine Trail while exploring delicious pairings of local wines with a variety of cheese-themed dishes. Our events often sell out, well in advance, so get your tickets early to avoid disappointment!
Due to the size of these events, wineries are not able to accommodate food allergies and restrictions. Please review the recipe book before purchasing your tickets.
Choosing a Starting Winery & Getting Your Tickets
When you purchase tickets, you will do so by selecting a starting winery. You must begin at your starting winery because that is where you'll pick up your event tickets. Once your tickets are purchased, your starting winery cannot be change. The person whose name is on the order must be present to pick up tickets and will show a government-issued photo ID to claim their tickets.
Group Size Maximum
The group size maximum for our Wine Trail events is 6 people and that figure is firm. Please do not travel in groups of more than 6 people. If you disregard this guideline, you can be turned away from participating wineries and have your event tickets revoked. Please respect the event guidelines and winery staff.
Ticket Pricing & Details
Wine Tasting Ticket – $80 per person (includes taxes and fees)
Each wine tasting ticket holder will receive a wine glass and souvenir wine glass charm at their starting winery.  At each participating winery, wine tasting ticketholders enjoy a sample of food (using a cheese-inspired recipe) along with a wine to complement the dish, plus an additional three samples of wine. If you do the math, that's less than $5 per winery visit!
Designated Driver Ticket – $25  per person (includes taxes and fees)
We love our designated drivers! Instead of the wine glass and souvenir charm, DDs receive a souvenir insulated travel mug, plus the food samples and a non-alcoholic beverage at each participating winery along the way.
Refunds & Cancelation 
Seneca Lake Wine Trail event tickets are non-refundable. Our events are not canceled due to weather, unless the state closes roads around the Wine Trail. We offer ticket insurance which is available to purchase during check out. If you cannot attend due to weather in your area or ours, you can sell your tickets at face value via the event discussion tab on our Facebook page. Please see instructions pinned to the top of that discussion for more information.
COVID-19 Precautions
We take the health and safety of our event attendees and winery staff seriously. Please stay home if you are ill or have been exposed to COVID-19.
If you purchase tickets and cannot attend due to illness, you can sell your tickets at face value via the event discussion tab on our Facebook page. Please see instructions pinned to the top of that discussion for more information.
If we are forced to cancel our event due to an uptick of COVID-19 in our area, all ticketholders will receive an automatic refund back to their original method of payment.
Event Dates & Hours
Friday, April 14, 2023 – 12pm-5pm
Saturday, April 15, 2023 – 10am-5pm
Sunday, April 16, 2023 – 10am-5pm
Wineries will only serve event attendees during the event hours.
18 Participating Wineries
Beginning at the northwest corner of the wine trail and proceeding south along the west side of the lake, around the south end, and then up the east side to the northeast corner.
CLICK HERE TO VIEW THE EVENT RECIPES
White Springs Winery
Fox Run Vineyards
Seneca Shore Wine Cellars
CK Cellars Torrey Ridge Winery & Meadery
Tabora Farm and Winery
Fruit Yard Winery
Glenora Wine Cellars
Fulkerson Winery
Toast Winery
Lakewood Vineyards
Castel Grisch Winery
J.R. Dill Winery
Leidenfrost Vineyards
Bagley's Poplar Ridge Vineyards
Caywood Vineyards
Wagner Vineyards
Three Brothers Wineries & Estates
Ventosa Winery
Weekend packages for 2-6 people
Sip Back and Relax Tours has put together a limited number of simple and convenient weekend packages for 2-6 people. They did all the planning so you can just go out and enjoy the weekend event! Packages include a 2 night stay, 6 hours of transportation the Saturday of the event, and tickets to the event.  CLICK HERE to learn more. Please contact Sip Back & Relax Tours directly for reservations or with any questions.
Add on a lanyard for just $6!
The perfect hands-free solution for event-goers. Simply remove your glass from the holder while you're tasting and return it to the holder while you're shopping, walking around, and so on. The rubber base stretches to accept almost any stemware base.  The lanyard is 38" long and available in black or purple. You will have the option to add a wine glass lanyard in any quantity you choose when you click through to purchase tickets and it will be waiting for you at your starting winery. Last date to order your lanyard for Spring Wine and Cheese is March 7, 2023. Lanyards will not be available to purchase for this event after that date.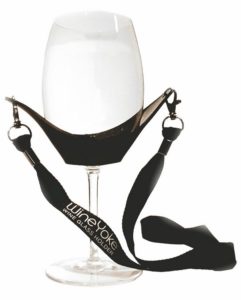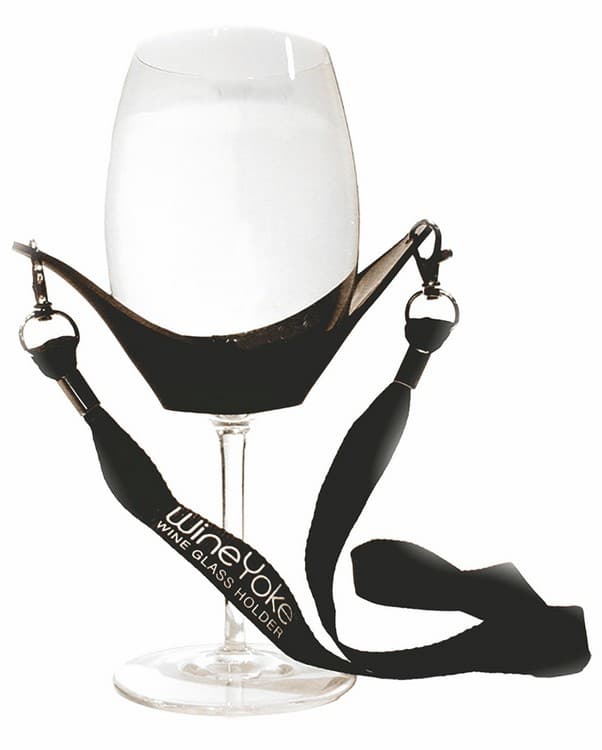 Purchase Tickets