Blind Tasting Series at Boundary Breaks
January 25, 2020 @ 11:00 am

-

5:00 pm

|

Recurring Event

(See all)

This event happens Jan 11/12, Jan 25/26, Feb 15/16, Feb 29/ March 1, March 7/8, March 15/16. Each day at 11am, 1pm, and 3pm.

$20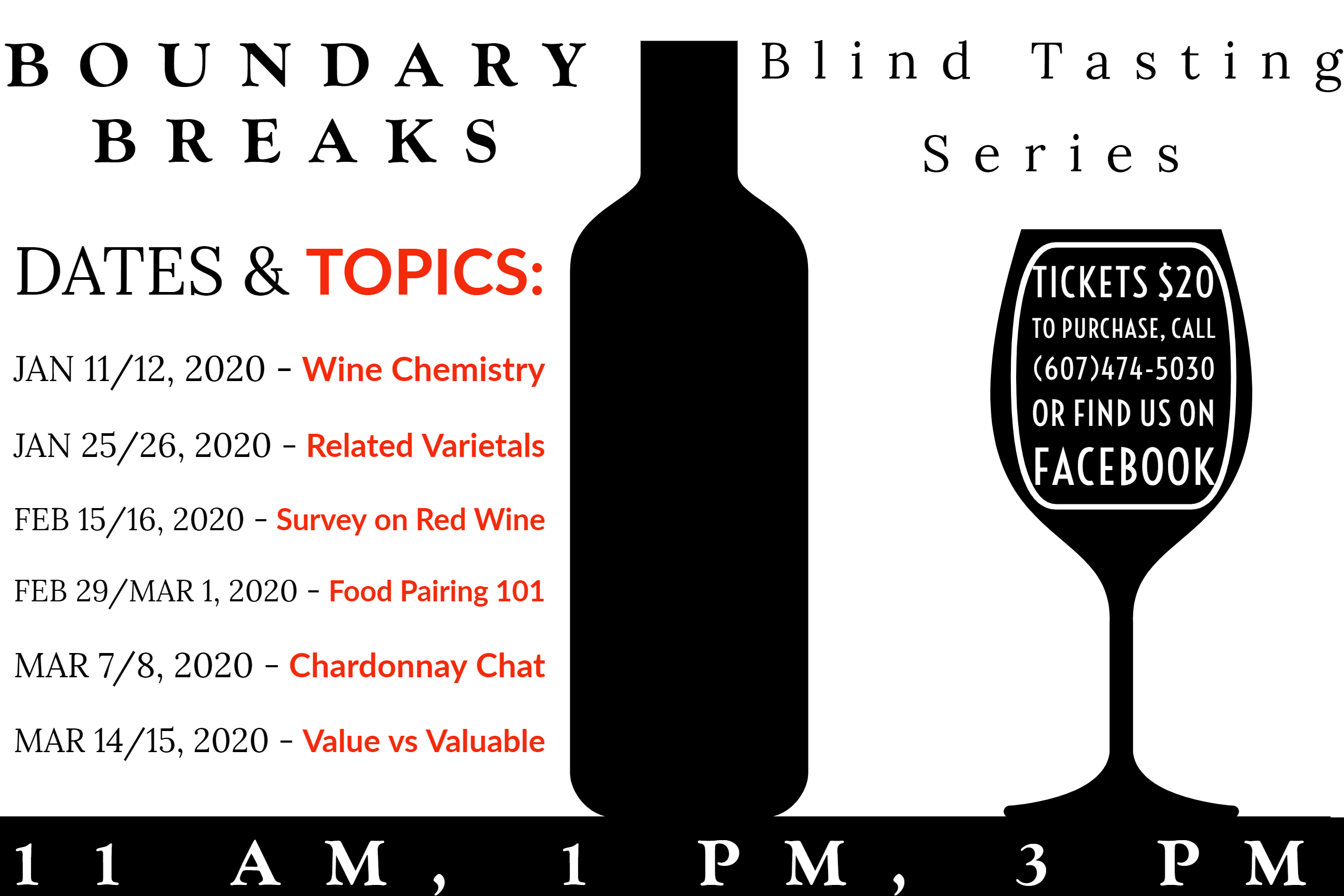 Every winter, Boundary Breaks hosts a Blind Tasting Series. Join us this winter to expand your wine knowledge and taste great wines along the way!
Each date will have three sessions at 11 AM, 1 PM, and 3 PM. There will be 20 seats per session and tickets are $20 per person.
The dates and topics are as follows:
January 11th & 12th – Wine Chemistry
– Co-owner Diana Lyttle illustrates the main characteristics found in wine, being acid, sugar, alcohol, body, and tannins. Use these characteristics and terms to describe a wine. They are less subjective than flavors which are harder to describe and agree on.
January 25th & 26th – Related Varietals and Wine Families
– Events Coordinator Micah Coons explains the history of wine varietals, family trees, hybrids, and the differences between related grapes, such as Gewurztraminer vs Traminette.
February 15th & 16th – A Survey on Red Wine
– Co-owner Bruce Murray discusses light-bodied and full-bodied red wines and how cold climates (like Central New York) make the wine taste compared to the rest of the world.
February 29th & March 1st – Food Pairing 101
– Diana returns to discuss the science and theory behind food pairings. Learn the basic principles to bring out the best in wine and food.
March 7th & 8th – Chardonnay Chat
– Join Micah to discuss the versatility of one of the most widely planted and most popular white grapes in the world.
March 14th & 15th – Value vs. Valuable Wine
– Bruce closes the season discussing the differences between a $12 bottle of wine and a $60 bottle, and how to get more bang for your buck. We give you the tools to be an expert wine buyer!
Tickets can be found here: https://www.showclix.com/event/blind-tasting-series-at-boundary-breaks.
Please notify us of any allergies, dietary restrictions, or any other accommodations you may require and we will happily make those accommodations.