Big Kids Camp
June 15, 2019 @ 1:00 pm

-

9:00 pm

$40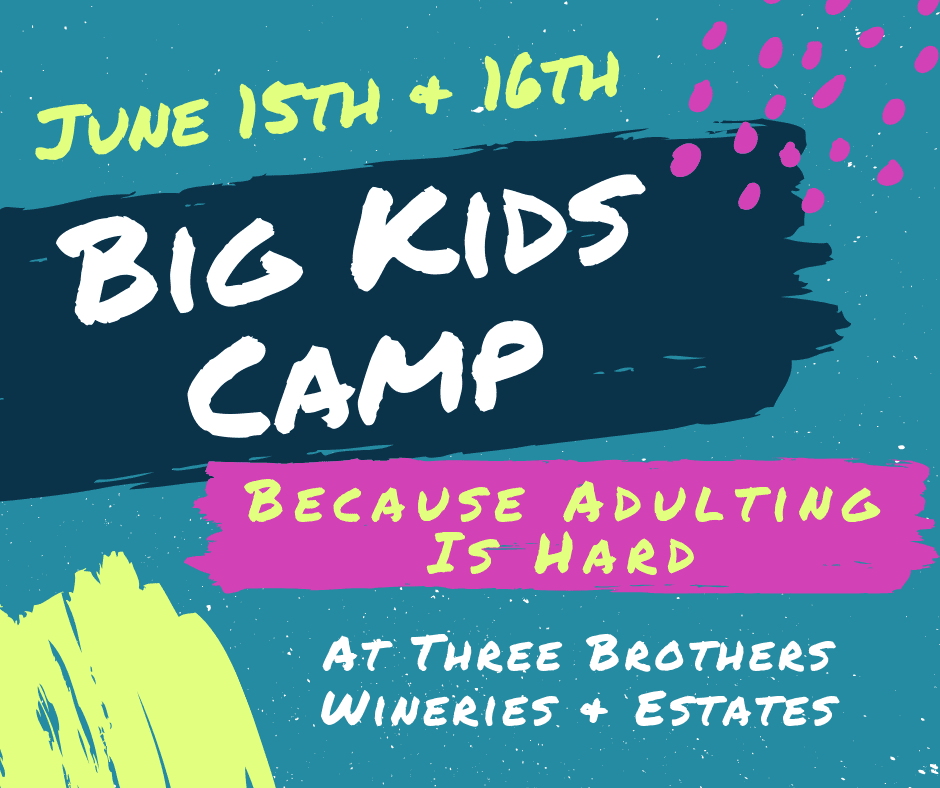 In this hyper-connected, high-speed world, adults need summer camp more than ever. This two day event is full of fun activities. Register now to participate. Camp food will be available for purchase from our cafe throughout the day – menu coming soon. Hard Rain is the featured beverage during Big Kids Camp (but don't worry all of our other drinks will be available too). Camp counselors (aka winery staff) will be onsite all day running the activities.
Saturday June 15th $40 Registration Includes:
– Tasting Passport to sample in our 3 wineries and microbrewery
– Hard Rain T-shirt
– Access to our onsite games: ping pong, corn hole, jenga, lawn twister, dunk tank, 3 point shoot, photo booth and DJ
Pay an additional $10 to sign up for our Super Soaker Championship. Three teams of 5 will compete in each game, the team with the driest shirts at the end of the game is the winner. Games start at 1pm, 2pm, 3pm, 4pm, and 5pm – choose your game time when you register for camp. Each player will receive a white shirt to wear during the game and a Super Soaker to use during the game. Super Soakers must be returned at the end of the game. Participation is limited so sign up early if you want to play! Registration opens at noon for Super Soaker participants where you will sign a permission slip (aka waiver) and pick up your game shirt.
Sunday June 16th Activities:
Access to our onsite games: ping pong, corn hole, jenga, lawn twister, 3 point shoot
11am DIY Macrame Plant Hanging Class Pre-registration is required. Class is lead by Christine Legott. $20 per person includes all supplies; pot, plant, dirt and string to make the plant holder. Space is limited so sign up early!
1pm Dad Bod Contest – Happy Father's Day! It's time to strut your stuff. Register to take a walk down our runway and you could win big! Choose your runway song and wear your best dad bod ensemble. Dad status is not required to compete in our Dad Bod Contest (aka child not required).
1st Place Prize Valued at $200

2nd Place Prize Valued at $100

3rd Place Prize Valued at $50
Urban Dictionary defines a "Dad bod" as a male body type that is best described as "softly round." It's built upon the theory that once a man has found a mate and fathered a child, he doesn't need to worry about maintaining a sculpted physique. If human bodies were cuts of meat, the dad bod would skew more marbled rib eye than filet mignon; or, if human bodies were sea mammals, dad bod would be more like a grazing manatee than a speedy dolphin. The dad bod is more mudslide than mountain, more soft serve than sorbet, more mashed potato than skinny fry. The dad bod is built for comfort.
Big Kids Camp Weekend is also a celebration for the launch of Hard Rain, our spiked sparkling water. This is the first Finger Lakes made spiked seltzer and we can't wait for you to try it! Crisp and refreshing, Hard Rain comes in three delicious flavors; Black Cherry, Grapefruit Tangerine and Honeydew Melon.