Bagley's Bazaar
November 27, 2021 @ 11:00 am

-

5:00 pm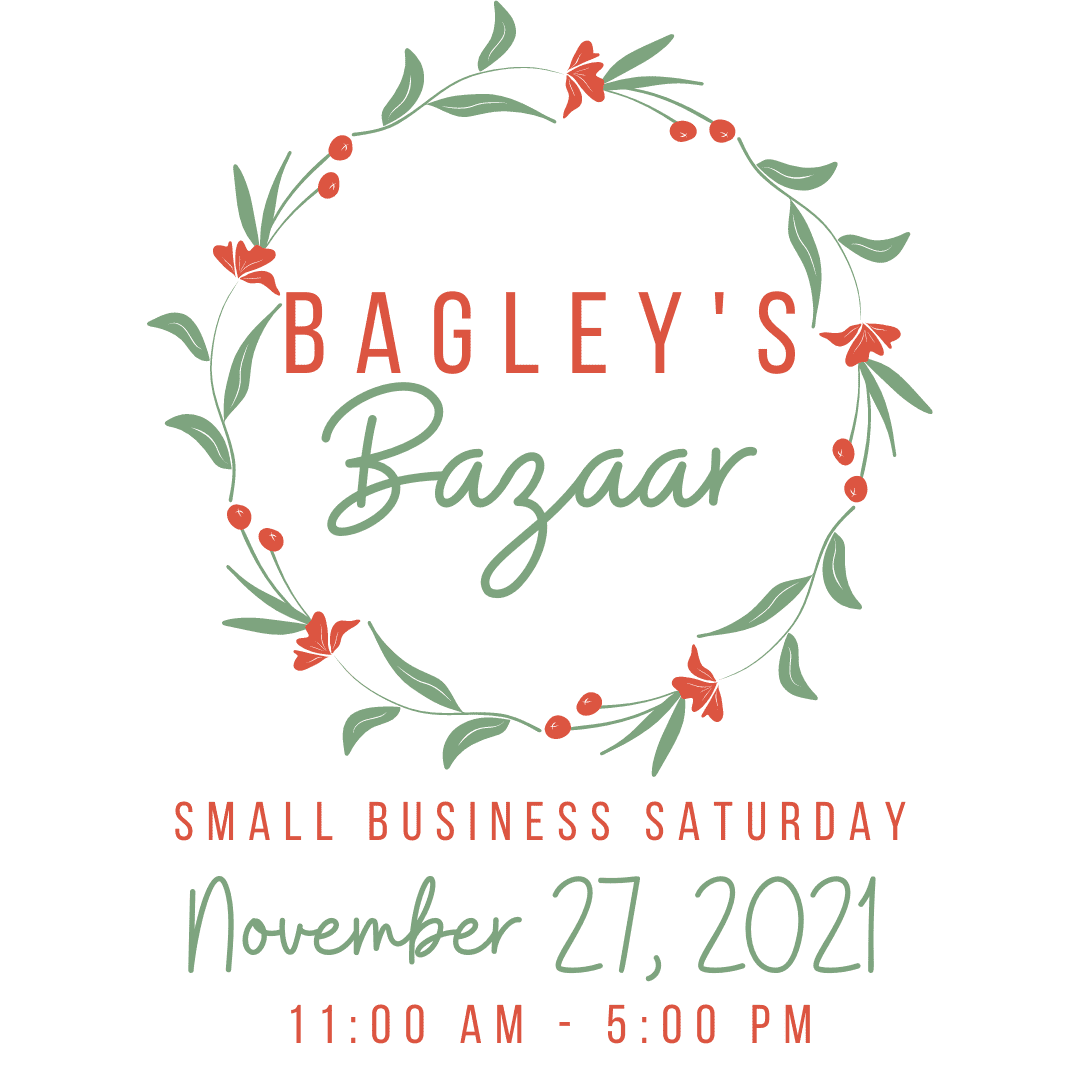 Join us for Bagley's Bazaar on Saturday, November 27th from 11:00am to 5:00pm!
Local Small Businesses will be set up in our Tank Room for all your holiday shopping needs, while the tasting room will be open for wine tasting flights, wine slushies, mulled wine, and bottle sales.
Created by American Express in 2010, Small Business Saturday (the Saturday after Thanksgiving) is meant to encourage people to shop small and bring more holiday shopping to small businesses.
Being a small business ourselves, Bagley's understands the importance of our community shopping small! We also understand that success not only comes from our community, but from other small businesses promoting and supporting each other. With this event, that's exactly what we'll do!
Did you know, that supporting a local small business doesn't only put food on tables and buys little girl's dance lessons, it also supports the local community as a whole!
Approximately $68 of every $100 spent at a local small business stays in our local economy!
Local small businesses donate 250% more to local non-profits and community causes.
If every family in the U.S. spent an extra $10 a month at locally owned, small businesses, over $9.3 billion would be directly returned to our local economies.
Every $1 spent at a small business creates an additional $0.50 of local economic impact.
Vendors:
Local to Watkins Glen, D&M Custom Creations fabricates handmade products that everyone can enjoy! Specializing in candles, wax melts, bath salts and crochet items. Check them out: https://www.facebook.com/DMcustomcreationsco/
Heyltje is a Hector native, attended Bard College for studio art and art history. She has been creating accessories in metal, leather & vintage findings for 15 years! Her work has been featured in several magazines, including Marie Claire and Elle UK! Check her out here: https://www.facebook.com/heyltjeroseshop
ROUND RABBIT BY NANCY ADAMS
Round Rabbit is the home of multimedia artwork and handcrafts by Hector resident Nancy Adams. Nancy has worked as a professional artist for over 20 years and strives to share beautiful things with everyone around her. Check her out here: https://www.facebook.com/RoundRabbit
Laurel's Country Shop was created by Interlaken native Laurel in 2015 when she began selling wooden signs on ETSY. Since then, she has started selling custom wine glasses, mugs and other gift sets. Now Laurel's Country Shop sports items for any occasion, Mother's Day to Christmas! Check her out here: https://www.etsy.com/shop/LaurelsCountryShop
SECRETS OF THE FOREST FLOOR
Brought to you by Leslie of CELVan & Stella, as epoxy is poured over a floral design, the individual floral pieces release air from their tiny spaces. Sometimes we catch the bubbles and help release them; other times they become "secrets of the forest floor" frozen in time, telling a story. Specializing in ocean themed charcuterie boards, modern floral preservations in resin, and other resin items, you can check out Secrets of the Forest Floor here: https://www.facebook.com/Secrets-of-the-Forest-Floor-102092428374774
From Seneca Lake, NY, Cast Aways jewelry adorns you with one-of-a-kind pieces created with broken and beautiful glass from the depths of Seneca Lake. Catrine also features her Rare Spirit collection that reflects outwardly the unique spirit that lives within you. From stackable bracelets to earrings with glass, fringe, and beads, you'll be sure to find something for someone on your list, or even yourself! Check her out here: https://www.instagram.com/castaways_rarespirit/
Located locally in Burdett, Route 414 Vintage specializes in new and used vintage clothing, shoes, watches, purses, and jewelry! Spice up your closet with something special for yourself or grab a special gift for someone on your holiday shopping list! Check them out here: https://www.facebook.com/Route-414-Vintage-110742144594086
With their shop located in Horseheads, NY, I'm sure you've seen P's Macarons around (like in Bagley's Tasting Room)! Specializing in French Macarons with an array of flavors, Dani also creates other various baked goods including cupcakes, brownies, whoopie pies, and cookie sandwiches. Check out their sweet treats here: https://www.facebook.com/paisleysmacarons/
Related Events