3Bros Pairing Dinner
January 25, 2020 @ 6:00 pm

-

8:30 pm

$47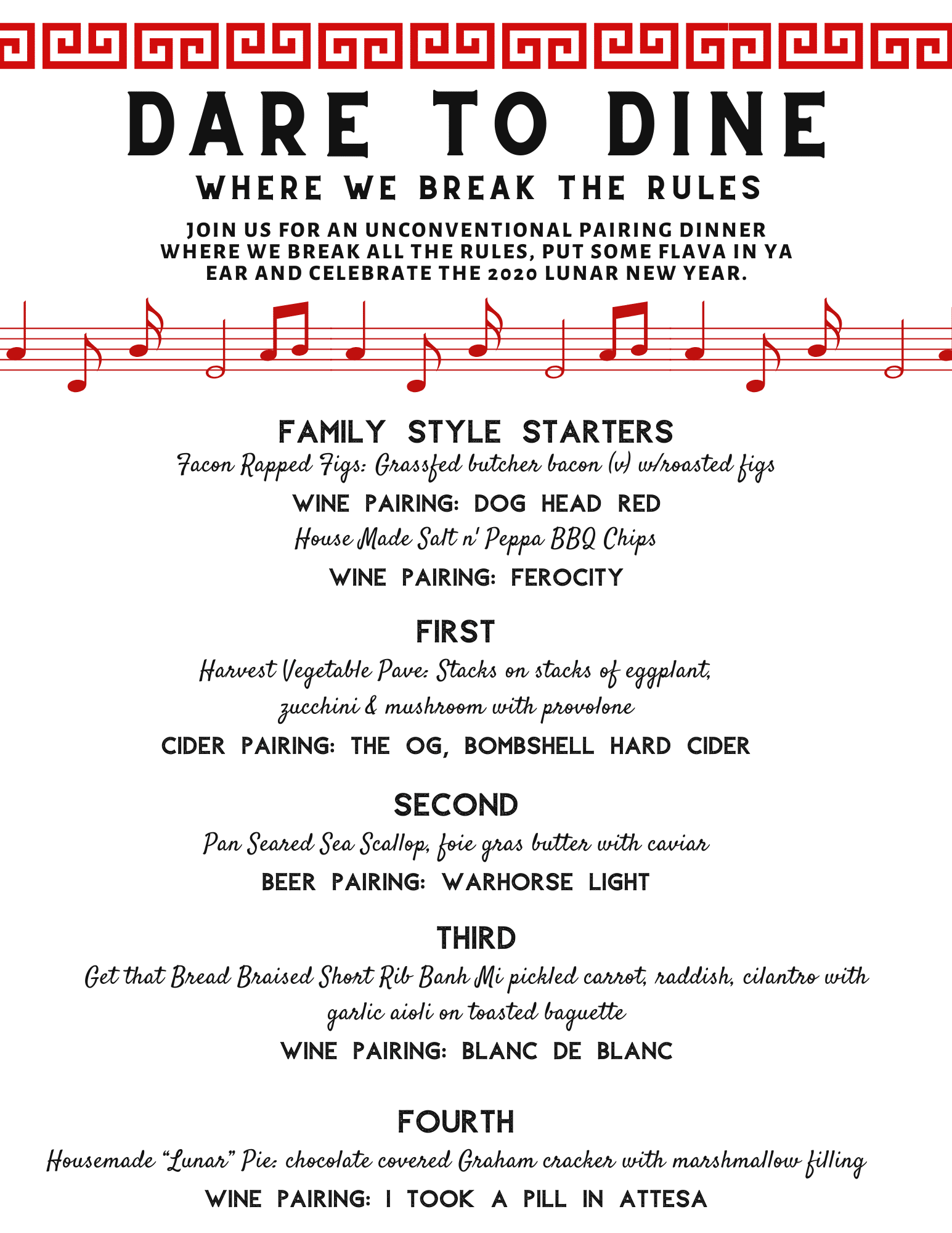 Join us for an unconventional pairing dinner where we break all the rules, put some flava in ya ear and celebrate the 2020 Lunar New Year.
It's the perfect dinner for "the crazy ones. The misfits. The rebels. The troublemakers. The round pegs in the square holes. The ones who see things differently. They're not fond of rules. And they have no respect for the status quo" (Rob Siltanen).
The perfect gift for the foodie, the social butterfly, the hipster, the chronic dater, the self proclaimed craft beverage expert, the IG influencer, the trendsetter, the New Year's resolution-er and you.
STARTERS: Facon Wrapped Figs: Grassfed butcher bacon (v) w/roasted figs, paired with Dog Head Red
House Made Salt n' Peppa BBQ Chips, paired with Ferocity
FIRST COURSE: Harvest Vegetable Pave: stacks on stacks of eggplant, zucchini & mushroom with provolone paired with The OG, Bombshell Hard Cider
SECOND COURSE: Pan Seared Sea Scallop, foie gras butter with caviar paired with War Horse Light
THIRD COURSE: Get that Bread Braised Short Rib Banh Mi: pickled carrot, raddish, cilantro with garlic aioli on toasted baguette paired with 2017 Blanc de Blanc
FOURTH COURSE: Housemade "Lunar" Pie: chocolate covered Graham cracker with marshmallow filling paired with "I Took A Pill In" Attesa
Email Amanda@3brotherswinery.com with questions or dietary restrictions.
Music featuring the best of 90's hip hop including but not limited to "Summertime" – DJ Jazzy Jeff & The Fresh Prince, "Back That Thang Up" – Juvenile, "I'll Be Missing You" – Puff Daddy ft. Faith Evans & 112, "I Wish" – Skee-lo, "Still Not A Player" – Big Punisher ft. Joe, "Whatta Man" – Salt-N-Pepa ft. En Vogue, "Now That We Found Love" – Heavy D and The Boyz, "U Can't Touch This" – MC Hammer, "Baby Got Back" – Sir Mix-A-Lot, "Gin & Juice" – Snoop Dogg, "Mo Money Mo Problems" – The Notorious B.I.G. ft. Puff Daddy & Mase
Related Events